26th January and 15 August are the great day for every Indian. These dates are celebrated every year with great honour.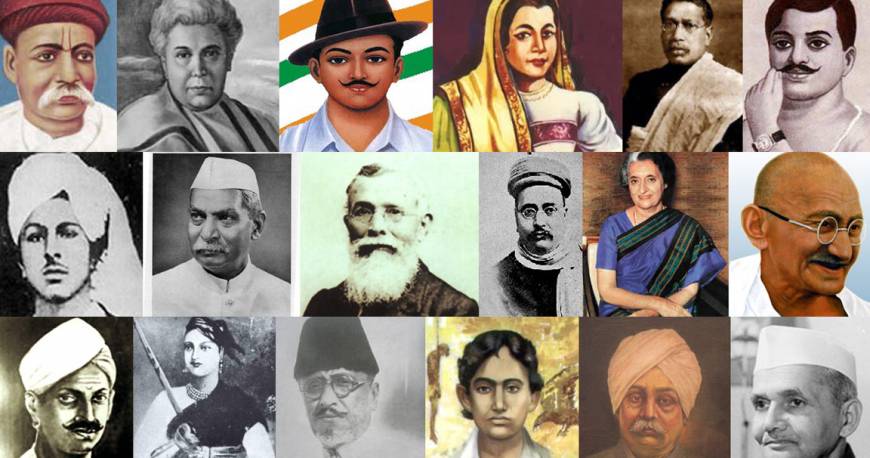 Indian history is full of bravery tales. There are several brave and great people who struggled for India's independence from the colonial rule. Naming your little one after one that you admire can be a great way to honour them and to instil the same courage and spirit in your new born baby.
Here's a list of some of our freedom fighters to name your baby after them.
| | | |
| --- | --- | --- |
| Name | Gender | Freedom Fighter (year) |
| Abdul  | M | Khan Abdul Gaffar Khan (1890 – 1988) |
| Achyut  | M | Achyut Patwardhan (1905 – 1992) |
| Amir  | M | Amir Chand Bombwal (1893 – 1972) |
| Atul  | M | Atulkrishna Ghosh (1890–1966) |
| Azad  | M | Maulana Abul Kalam Azad (1888 – 1958) |
| Bal  | M | Bal Gangadhar Tilak (1856 – 1920) |
| Benoy  | M | Benoy Krishna Basu (1908–1930) |
| Bhagat  | M | Bhagat Singh (1907 – 1931) |
| Bipin  | M | Bipin Chandra Pal (1858 – 1932) |
| Jatin  | M | Bagha Jatin (1879 – 1915) |
| Jawahar  | M | Jawaharlal Nehru (1889 – 1964) |
| Karam  | M | Mohandas Karamchand Gandhi (1869 – 1948) |
| Madan  | M | Madan Lal Dhingra (1883–1909) |
| Mohan | M | Mohandas Karamchand Gandhi (1869 – 1948) |
| Prafulla  | M | Prafulla Chaki (1888 – 1908) |
| Subhash  | M | Subhash Chandra Bose (1897 – 1945) |
| Surendra  | M | Surendranath Banerjee (1848 – 1925) |
| Surya  | M | Surya Sen (1894 – 1934) |
| Tarun  | M | Tarun Ram Phukan (1877-1939) |
| Vallabh  | M | Sardar Vallabhbhai Patel (1875 – 1950) |
| Aruna  | F | Aruna Asaf Ali (1909 – 1996) |
| Bina  | F | Bina Das (1911 – 1986) |
| Hazrat  | F | Begum Hazrat Mahal (1820 – 1879) |
| Indira  | F | Indira Gandhi (1917 – 1984) |
| Kamala  | F | Kamala Nehru (1899 – 1936) |
| Kanak  | F | Kanaklata Barua (1924 – 1942) |
| Lata  | F | Puspa Lata Das (1915 – 2003) |
| Meera  | F | Meera ben (1892 – 1982) |
| Mridula  | F | Mridula Sarabhai (1911 – 1974) |
| Muthulakshmi  | F | Muthulakshmi Reddy (1886 – 1968) |
| Padmaja  | F | Padmaja Naidu (1900 – 1975) |
| Priti  | F | Pritilata Waddedar (1911 – 1932) |
| Pritilata  | F | Pritilata Waddedar (1911 – 1932) |
| Rani  | F | Rani Lakshmi Bai (1828 – 1858) |
| Sarla  | F | Sarla Ben (1901 – 1982) |
| Sarojini  | F | Sarojini Naidu (1879 – 1949) |
| Sucheta  | F | Sucheta Kriplani (1908 – 1974) |
| Usha  | F | Usha Mehta (1920 – 2000) |
| Vijaya  | F | Vijayalakshmi Pandit (1900 – 1990) |
| Vijayalakshmi  | F | Vijayalakshmi Pandit (1900 – 1990) |